Where You'll Find Me by Erin Fletcher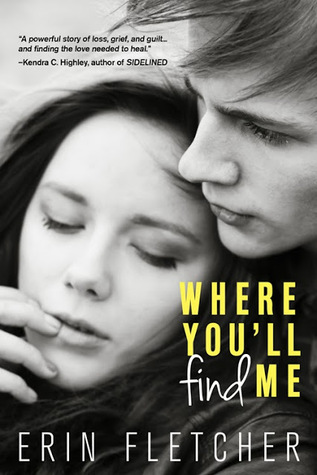 DRC provided by NetGalley for an honest review
When Hanley Helton discovers a boy living in her garage, she knows she should kick him out. But Nate is too charming to be dangerous. He just needs a place to get away, which Hanley understands. Her own escape methods (vodka, black hair dye, and pretending the past didn't happen) are more traditional, but who is she to judge?

Nate doesn't tell her why he's in her garage, and she doesn't tell him what she's running from. Soon, Hanley's trading her late-night escapades for all-night conversations and stolen kisses. But when Nate's recognized as the missing teen from the news, Hanley isn't sure which is worse: that she's harboring a fugitive, or that she's in love with one. (Summary thanks to GoodReads.com)
Where You'll Find Me is an amazing story about 2 teens who are just trying to get through life, on day at a time.
The writing here is just great.
It's face paced, easy to read and captivating.
The bond that Hanley and Nate create/feel with one another is special and truly beautiful.
I think the characters are well developed, the plot line well executed and the overall story rocked.
Absolutely great – I look forward to more from this author for sure!!