Beautiful Addictions by Season Vining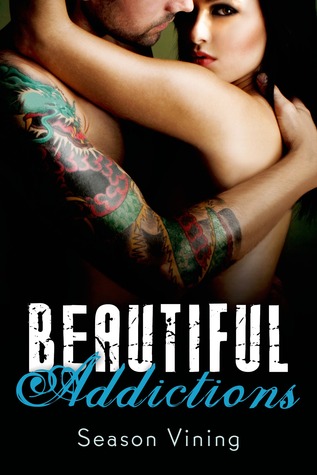 DRC provided by NetGalley for an honest review
Genre:

New Adult Contemporary Romance
Josie Banks is a girl without a past.

After being found unconscious with no memory, she was shuffled in and out of foster homes where she suffered years of abuse. An experience that left her broken, damaged, and clinging to drugs and meaningless hook-ups to numb her pain.
When Josie disappeared years ago, she took a piece of Tristan with her.

She's the girl he thought he lost forever—the one he's never been able to forget.

Now a twist of fate has brought them back together, and he never wants to let her out of his inked arms again.

But Tristan is haunted by a dark past of his own.

On the run from ruthless criminals that shattered Josie's world years ago, reentering her life puts them both in danger.
As Josie and Tristan's lives become tangled once again, they find themselves unwilling and unable to escape the relentless pull that draws them together.

But in Season Vining's Beautiful Addictions, will the past leave their love in ruins—or bind them together for a lifetime?

(Thanks to GoodReads.com for the summary)
Beautiful Addictions is not so pretty story about a girl who doesn't know who she is and the boy who wouldn't stop looking for her.

This story is comprised not only with the reconnecting of Tristan and his only love, but also with a mysterious plot that'll have you ah-haing when it's all said and done.
Josie and Tristan are complex characters.

They aren't from cookie cutter lives and families.

They've each had it rough and cope life in their own ways, be it as self-destructive as they are.

I loved the coming together of this couple in just about every way.
I liked it a lot.

I think the writing was decently done and the language pretty up to par and modern.

I enjoyed the duel POV's in this story - I think the author writing it like that made it more interesting.

Easy to read, flowed well and lots of steamy bits.

Great job.

I look forward to more from this author.