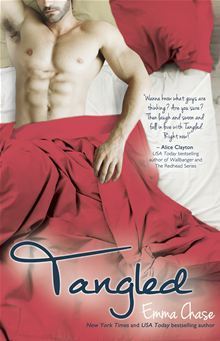 ARC provided by NetGalley for an honest review
Genre:

Contemporary Romance
When rich, handsome, and arrogant meets beautiful, brilliant, and ambitious, things are bound to get tangled…

Drew Evans makes multimillion-dollar business deals and seduces New York's most beautiful women with just a smile. So why has he been shuttered in his apartment for seven days, miserable and depressed? He'll tell you he has the flu, but we all know that's not really true.

When Katherine Brooks is hired as the new associate at Drew's father's investment banking firm, every aspect of the dashing playboy's life is thrown into a tailspin. The professional competition she brings is unnerving, his attraction to her is distracting, & his failure to entice her into his bed is exasperating.

How can one woman turn a smooth-talking player into a broken, desperate man? By making the one thing he never wanted in life the only thing he can't live without.
(Thanks to GoodReads.com for the summary)
Tangled was hilarious.

I enjoyed the tables being turned for a changed with the bad boy/player getting over a heart break – priceless.

I thought the writing was great, the use of modern language/dialogue was spot on and it wasn't overly descriptive.

I also appreciated lack of cheese throughout the story.
Kate and Drew's coming together was an interesting tale full of humor, wicked hot loving and some more steamy smexy times.

I read this fairly quickly as it was easy to read and you really didn't want to stop reading. I listened via audiobook and the narrator did a great .

Great job to the author!!