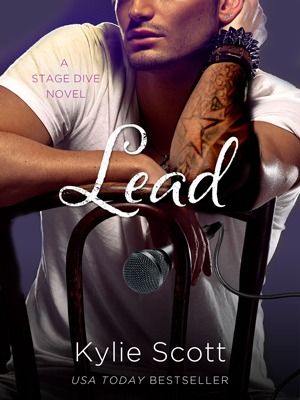 DRC provided by NetGalley for an honest review
Published November 25th 2014
Genre:

Contemporary Romance, Rockstar Romance
As the lead singer of Stage Dive, Jimmy is used to getting whatever he wants, whenever he wants it, whether it's booze, drugs, or women. However, when a PR disaster serves as a wake-up call about his life and lands him in rehab, he finds himself with Lena, a new assistant to keep him out of trouble.

Lena's not willing to take any crap from the sexy rocker and is determined to keep their relationship completely professional, despite their sizzling chemistry. But when Jimmy pushes her too far and Lena leaves, he realizes that he may just have lost the best thing that ever happened to him. (Thanks to GoodReads.com for the summary)
Lead is a great addition to the Stage Dive series!!

I got this via NetGalley initially, but then bought it on Audible as I had the other 2 books in the series.

I liked finally getting to read Jimmy's story.

This story is chocked full of wicked hot lovin' and then some.

Jimmy is basically the biggest douchebag in the world and Lena isn't afraid to tell him like it is.

I loved it!

Keep up the great writing!!