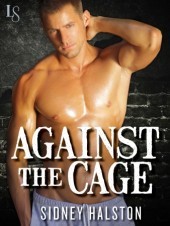 Against the Cage by Sidney Halston
Series: Worth the Fight #1
DRC provided by NetGalley for an honest review
Genre:

Contemporary Romance, MMA Romance, New Adult Romance
In her Loveswept debut, Sidney Halston turns up the heat as a sexy cage fighter shows a former bookworm how delicious a few rounds between the sheets can be.

For Chrissy Martin, returning to her Florida hometown always seems to bring bad luck. The day starts with a breakup text, followed by a jailhouse phone call from her troublemaker brother. Now a routine traffic stop has ended with her accidentally punching an officer . . . in a delicate place. Then Chrissy realizes that the hot cop on the receiving end of her right hook is none other than the man from her teenage fantasies.

Jack Daniels knows how to take a hit. After all, when he's not chasing reckless drivers, he's kicking ass in a mixed martial arts ring. So what takes his breath away isn't the low blow, but the woman who dealt it: a gorgeous knockout with legs Jack wouldn't mind being pinned under—who just so happens to be his best friend's nerdy little sister, all grown up. Soon their instant chemistry leads to a sizzling affair, but Jack and Chrissy are fighting an uphill battle if they want to make love last beyond the final bell.
Includes a special message from the editor, as well as excerpts from other Loveswept titles.
(Thanks to GoodReads.com for the summary)
Against the Cage is a wicked hot read that'll leave you wanting more.

I really enjoyed this story.

Chrissy and Jack have an instant kind of chemistry when they see each other again after 10 years.

She's always wanted him and he's now seeing her for the stunning beauty that she is.

It took me a bit to get into this story, but one I was into to it – I was hooked.

I like their snarky banter and their smexy scenes **smoking**.

I felt the read was easy to follow and was fast paced.

I look forward to Slade's story for sure!!