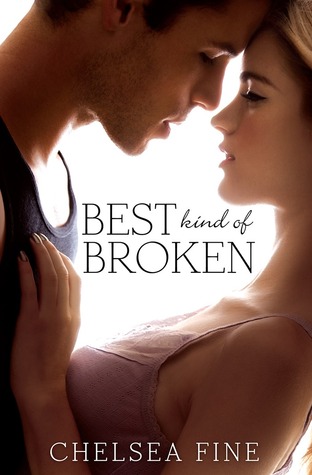 Best Kind of Broken by Chelsea Fine
DRC provided by NetGalley for an honest review
Genre:

New Adult Contemporary Romance
Pixie and Levi haven't spoken in nearly a year when they find themselves working―and living―at the same inn in the middle of nowhere. Once upon a time, they were childhood friends. But that was before everything went to hell. And now things are... awkward.

All they want to do is avoid each other, and their past, for as long as possible. But now that they're forced to share a bathroom, and therefore a shower, keeping their distance from one another becomes less difficult than keeping their hands off each other. Welcome to the hallway of awkward tension and sexual frustration, folks. Get comfy. It's going to be a long summer.

(Thanks to GoodReads.com for the summary)
Best Kind of Broken is a great story about two people who need to let go of the past and live for the future.

I enjoyed the character of Pixie and Levi.

You could almost feel the animosity between the two, but you also feel the pull they had on one another as well.
This book made me laugh out loud several times and then some.

The writing is easy to read, easy to follow and easy to fall in love with.

I loved the interaction between the two, it was great.

I enjoyed the view of the story from both sides – duel POV's are my new favorite.

I also think the glimpses into the past were a great addition to the story.
Well done to the author.

I like your style of writing, your characters and the body painting scenes you wrote was HOT.

I will definitely be reading more in this series and other by Chelsea Fine.